Ah, the stewardship of time! Teaching young people about time management is complex. Technology distracts them and makes it hard to focus. Time management is essential for reaching goals and finding balance.
It's about guiding them to prioritize, focus, and make the most of the moments that slip by unnoticed. 
Our challenge is to frame time management not just as a schedule to keep but as a mindful approach to living.
Table of Contents
The Challenge of Time Management for Teens
Time management is a common struggle, especially when procrastination and distractions are at every turn. It's tough to keep your focus and guess how long tasks will take when things like social media or video games are just a click away.
Staying Motivated
When you need to feel more motivated, it's hard to use your time well. It's tempting to spend hours on fun stuff that doesn't help you get ahead. This can lead to a cycle where you need to get something done.
Multitasking Misconceptions
Multitasking seems clever, but it can make you less focused. Trying to do a lot at once can slow you down instead of speeding things up.
Balancing Act
It takes work to keep up with school, family, and friends simultaneously. It's easy to miscalculate how long you'll need for your tasks, making you feel rushed and stressed.
Only determining how long tasks will take is a common problem. This often leads to last-minute rushes to get things done, which can be stressful.
The Importance of Routine
Having a routine can make time management more effortless. Without set times for regular tasks, it's easy to procrastinate and not get things done. Seeing others who manage their time can make you aware of what you're missing.
Ownership and Stewardship of Time
The Bible teaches us that God is the Lord of time (Daniel 2:21; Job 14:1, 5). He is in control, and we depend on Him and His decisions. Time and life are closely intertwined. When we spend time with someone, we give them a part of our life.
This makes time extremely valuable. As believers, we are encouraged to commit our time to God and follow His guidance (Psalm 31:15).
Time can be wasted and misused, as seen in the days before the flood (Genesis 6-7) and in the story of Felix, who procrastinated in deciding for God (Acts 24:24-25). Our task, therefore, is to make the most of our time by using it wisely (Colossians 4:5; Ephesians 5:16).
This includes spending time with God and His church, as well as with family, friends, and neighbors. We can also use our time for meaningful work, relaxation, and physical exercise.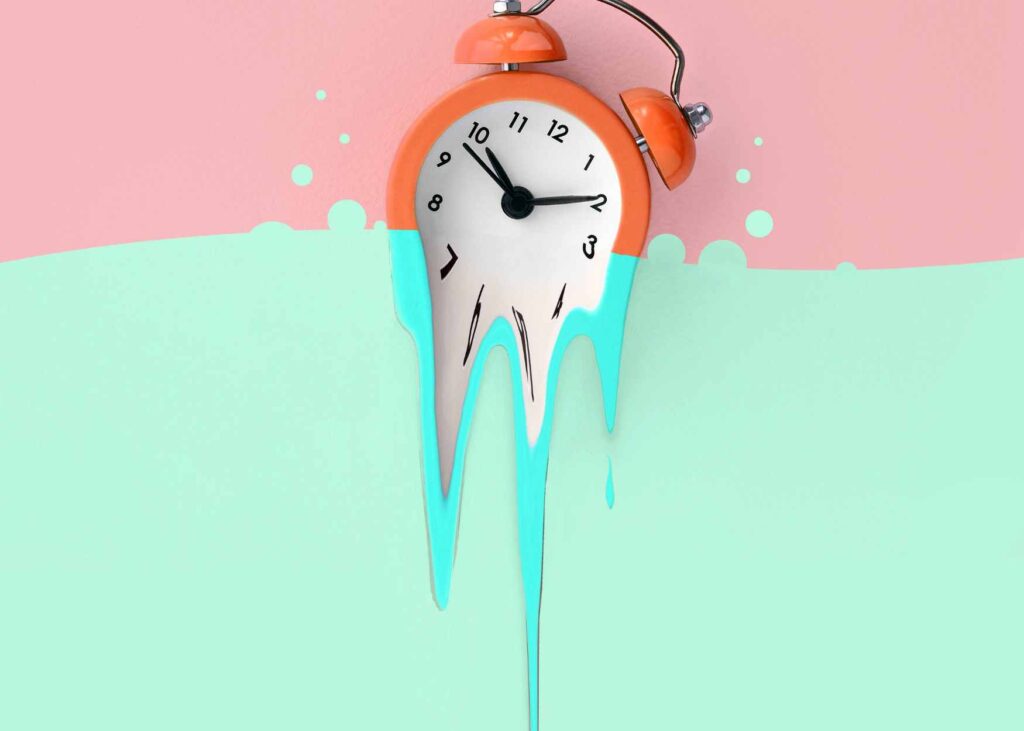 Principles for the Good Use of Your Time
Although the Bible does not specify how to put your time to good use, it's full of concepts that can help you build good time management skills.
Here are recommendations from the holy scriptures.
Embracing Prayer in Time Management
Connecting with God
Romans 12:12: "Rejoice in hope, be patient in tribulation, be constant in prayer."
1 John 5:14-15: "And this is the confidence that we have toward him, that if we ask anything according to his will, he hears us. And if we know that he hears us in whatever we ask, we know that we have the requests we have asked of him."
Daniel 6:11: "Then these men came by agreement and found Daniel making petition and plea before his God."
When you feel overwhelmed, prayer is your lifeline. It's your conversation with God where you can find peace and refocus on what truly matters. Through prayer, you can seek God's guidance and find the strength to navigate life's challenges.
Diving into Scripture for Guidance
Understanding God's Will
Colossians 3:16: "Let the word of Christ dwell in you richly, teaching and admonishing one another in all wisdom, singing psalms and hymns and spiritual songs, with thankfulness in your hearts to God."
Acts 17:11: "Now these Jews were nobler than those in Thessalonica; they received the word with all eagerness, examining the Scriptures daily to see if these things were so."
Joshua 1:8: "This Book of the Law shall not depart from your mouth, but you shall meditate on it day and night, so that you may be careful to do according to all written in it. For then you will make your way prosperous, and then you will have success."
Regularly reading the Bible keeps you in tune with God's voice. It's through His Word that you can learn about His promises and understand how to live a life that pleases Him. Let Scripture guide your daily walk and decisions.
Sharing Your Faith
Being a Witness to Others
Matthew 10:32: "So everyone who acknowledges me before men, I also will acknowledge before my Father who is in heaven."
2 Corinthians 5:20: "Therefore, we are ambassadors for Christ, God making his appeal through us. We implore you, on behalf of Christ, to be reconciled to God."
Sharing your faith isn't just about benefiting others; it's also about deepening your relationship with God. When you witness to others, you affirm your faith and invite others to experience the transformative love of Jesus.
Serving with Love
Acting on Your Faith
Luke 10:25-37: The Parable of the Good Samaritan, which calls you to love and serve those in need.
Matthew 5:7: "Blessed are the merciful, for they shall receive mercy."
Matthew 22:37-39: "You shall love the Lord your God with all your heart and with all your soul and with all your mind. This is the great first commandment. And a second is like it: You shall love your neighbor as yourself."
Service is a practical expression of your Christian faith. It's about showing mercy and compassion to others, whether they're close to you or strangers. Look for creative ways to serve and get involved in church activities.
Fostering Fellowship
Strengthening Each Other
Acts 2:46-47: "And day by day, attending the temple together and breaking bread in their homes, they received their food with glad and generous hearts, praising God and having favor with all the people. And the Lord added to their number daily those who were being saved."
Hebrews 10:24-25: "And let us consider how to stir up one another to love and good works, not neglecting to meet together, as is the habit of some, but encouraging one another, and all the more as you see the Day drawing near."
Spending time with fellow believers is not just enjoyable; it's crucial for your spiritual health. It provides a network of support and encouragement, helping you to grow in faith and stay strong in your convictions.
Valuing Work as a Blessing
Finding Purpose in Labor
Genesis 1:28; 2:15, 19-20: God's command to work and care for the earth.
1 Thessalonians 4:11: "And to aspire to live quietly, and to mind your affairs, and to work with your hands, as we instructed you."
Work is part of God's plan for you. It's meant to be fulfilling and is a way to contribute to the world and honor God through your efforts as faithful stewards.
Prioritizing Rest
Balancing Work with Rest
Mark 6:30-32: "Come away by yourselves to a desolate place and rest a while."
Exodus 20:8-11: The commandment to keep the Sabbath day holy.
Rest is essential for your well-being. It's a time for you to recharge, both physically and spiritually. Remember to find a healthy balance between your work and rest, taking time to recuperate and connect with God and loved ones.
Conclusion on the stewardship of time.
Time is one of the most precious gifts we have received from God. We are asked to use this gift productively. By following the principles outlined above, our lives can be enriched and glorify God. We also demonstrate our complete commitment to the Lord, and He, in turn, will guide us into a deeper understanding of Him and His plan for us.
Remember, as teenagers, you are not just managing your time for school assignments or social activities. You are also stewards of the time God has given you. Use it wisely, and you will not only succeed in your daily tasks but also grow in your relationship with God.